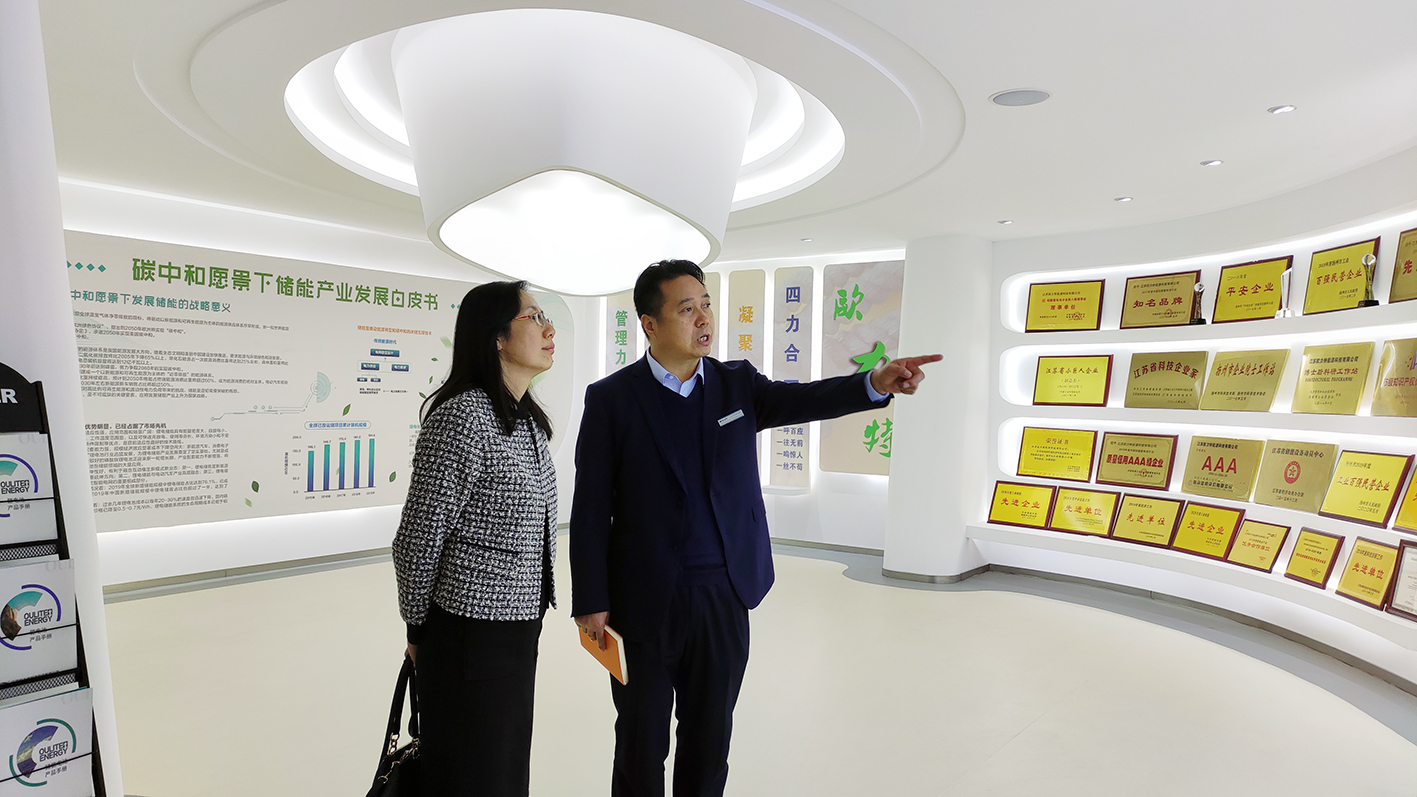 Finance helps enterprises develop rapidly and innovatively, and energy storage takes the lead in new energy under the "dual carbon target"
This survey is mainly to understand the current business situation of the enterprise, and the necessary supporting financial measures, to help the transformation and development of the enterprise, innovation and win-win.
On the afternoon of November 5th, He Min, president of The Central Sub-branch of The People's Bank of Yangzhou, and Geng Geng, director of the Office came to visit our company for investigation. Tang Bo, President of gaoyou Sub-branch of the People's Bank of China, Chen Gang, Gao Bangguo, Vice Director xue Chaoqin accompanied the investigation, and Yuan Chaoyong, Chairman of Aulet Group received the whole process.
Mr. Yuan Chaoyong, Chairman of Oliter Group, introduced in detail:
1. Production and operation status of the enterprise, including domestic and foreign orders;
2. Investment intention of the enterprise;
3. Capital status of the enterprise, including the change of capital turnover, financing demand and access to bank credit, etc;
4. The main problems affecting the production and operation of the enterprise at present and in the future, and the countermeasures of the enterprise.
This survey, he Governor for enterprise supporting financial policies to make important instructions. It is pointed out that finance should serve the innovation of enterprises, solve the practical difficulties of enterprises and provide all-round services except financing.
Mr. Yuan Chaoyong, chairman of Oliter company, expressed his heartfelt thanks to the people's Bank and local banks for injecting capital vitality into the development of the enterprise, and also thanked for providing fast financial services and considerate supporting policies to Oliter for many years! I believe that with your support, the transformation and upgrading of enterprises will be more stable and achieve energy storage under the "dual carbon target".